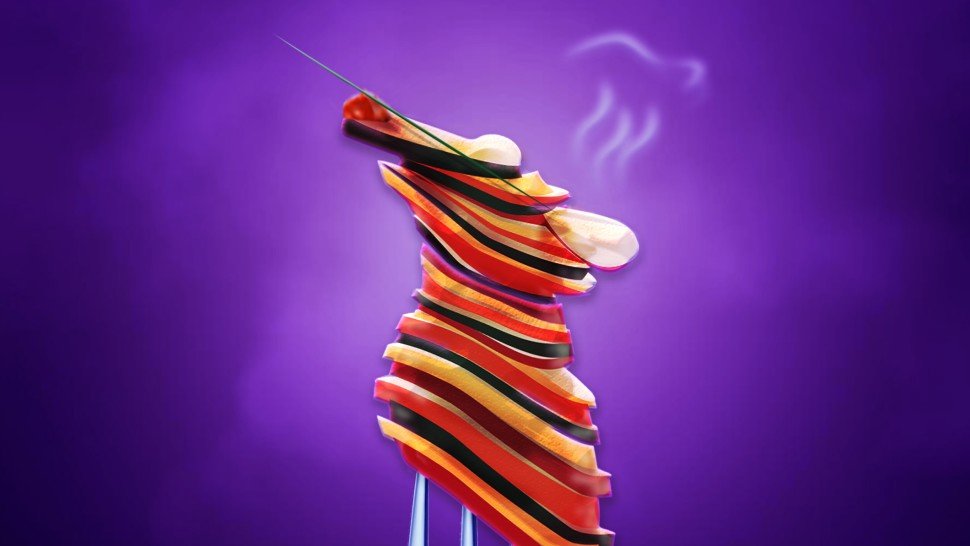 the musical of all our dreams
In the best way possible, it's hard to believe that a musical concept that started out as a joke ended up with a concert presentation hosted by a Broadway production company. 
In case you missed it – or, like me, got a little overwhelmed by how fast the whole thing was snowballing but were totally there for the ride, even if you were totally confused – here's a short history of how it all went down. I say short because it's true: this concept has only been around since August. 
In a video that has since garnered over a million views, TikTok user Emily Jacobsen (@e_jaccs) posted a video of a short tribute to the star of the 2007 Pixar film Ratatouille or, as she captioned the video, "A love ballad." In just four lines, this song sparked a trend that then spiraled to astronomical proportions. Before long, TikTok users were choreographing dances to the song, tweaking the meaning behind the words, providing set design and concept artwork (one user even created an extremely realistic Playbill for the show), and coming up with an array of songs for the many, many different characters, each with their own twist. 
There are literally thousands and thousands of videos at this point, so it's hard to narrow them down, but here are some notable ones. "You're Just A Rat" was written for the perspective of Linguini at the emotional climax of the show, and another one of the songs for Remy's dad was noticed by Patton Oswalt, who voiced Remy, and Brad Bird, who directed the film. Broadway star Kevin Chamberlin (best known for Seussical and The Addams Family) wrote and performed an original song for Gusteau, the chef ghost who continually tells Remy that "anyone can cook." The trend gained Disney's attention, so Disney Channel stars took the original song and rapped a version at Disney World in front of the upcoming Ratatouille-themed attraction, Remy's Ratatouille Adventure. My personal favorite is a duet written for Linguini and Colette, the chef training him, that has been stuck in my head since it was posted in October. 
All of this buzz finally came to a head in early December, when Playbill announced that Seaview Productions (the company behind Slave Play, Sea Wall/A Life, and A Gentleman's Guide to Love and Murder) would present a concert presentation of some of the songs created for the musical, starring Broadway greats such as André De Shields (Hadestown), Ashley Park (Mean Girls), Kevin Chamberlin (reprising his role as Gusteau), Tituss Burgess (Jersey Boys, The Little Mermaid), and Andrew Barth Feldman (Dear Evan Hansen). All of the proceeds from the show went to The Actors Fund – and don't worry, the original creators were compensated for their work! (And yes, I did purchase a ticket as soon as the announcement was released.) 
The show premiered on New Year's Day. It was phenomenal. (Yes, I cried.) The playbill created by Jess Siswick was turned into the actual playbill – which you can purchase, by the way – and the original TikTokers that created the songs featured in the concert were brought back at the end of the show. More than that, it raised over $1 million for the Actors Fund.
All that said, why does this matter? For me, it's a prime example of what can happen even in the midst of chaos. When lockdown first started in March, there was talk on Twitter about Shakespeare writing King Lear while quarantined. Even if it's not true, lots of people wondered what "their" King Lear would be. Maybe this is Gen Z's. If nothing else, it's a testament to how the arts can and will survive this pandemic. 
I've always been an advocate for "finding the happy," and I think this is it. Even if you think the songs are stupid or the concept would never work on an "actual" Broadway stage or this never would've flown in "normal" times... these kids did this. It's a monument to how people can improvise, adapt, and overcome, even in the wildest of times. 
As Chef Gusteau says in the film, "Anyone can cook." Or, in this case, make a musical – even a bunch of random teenagers on a social media platform.