Parking
You may purchase parking for the following locations through the Woodruff Arts Center box office or via the Arts Center ticketing website. Please see the map for detailed directions to each parking facility.
Parking is free in the Woodruff Arts Center parking garage every day for all active duty military and veterans with a military ID, courtesy of The Home Depot.
Parking is available at the following locations:
Woodruff Arts Center Parking Garage, located on Arts Center Way, between 15th St. and 16th St.
Promenade building, located on 15th Street at the intersection of 15th and Arts Center Way
Please note that this parking deck is undergoing construction and one or more entrances may be closed, but the deck is open and available for patron use.
Colony Square, located at 14th Street and Peachtree Street
Midtown Plaza Parking Deck, located on Arts Center Way, between 16th St. and West Peachtree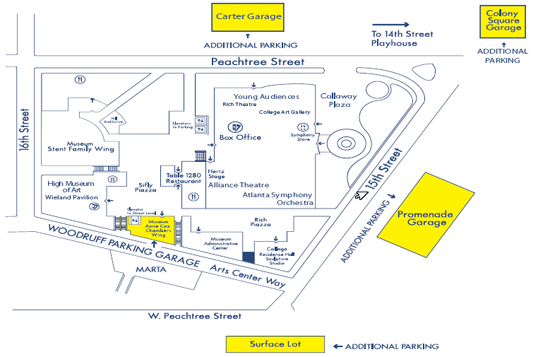 **Please note:  Parking is strictly prohibited on the streets surrounding the Arts Center (including 15th Street) and in the Ansley Park neighborhood.  Violators will be towed.
For Bus Drivers
To Drop Off Students:
Go just beyond the light at 15th Street and turn left into the Arts Center driveway (just beyond the large Arts Center marquee). The students can be dropped off in front of the door into the Lobby on the right side of the driveway.
To Park Buses:
After dropping off the students, take your parking instructions from the security guards. Bus parking is on 15th Street , 16th Street, Arts Center Way or West Peachtree Street. There is no longer bus parking on Peachtree Street. Buses should not park on yellow curbs or block crosswalks. The security guards will be happy to assist you if needed.