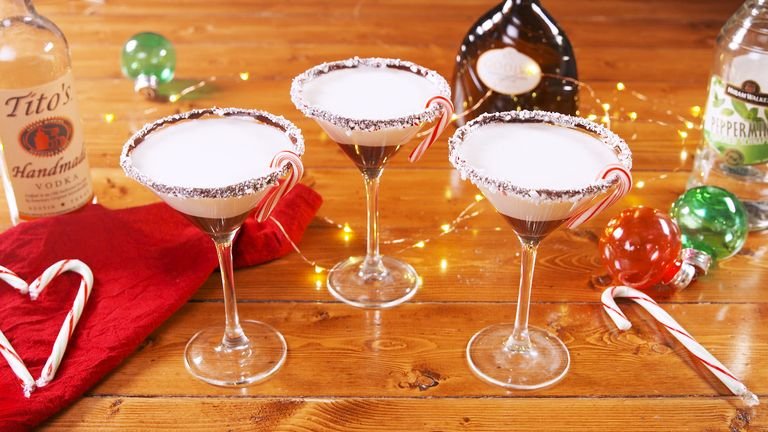 Holiday Cocktails Inspired by A VERY TERRY CHRISTMAS
To celebrate the new ATL holiday special from Terry Burrell streaming on Alliance Theatre Anywhere this festive season, we are sharing some cocktail recipes that might be the perfect pairing to a night in with the Broadway star. Drink responsibly and enjoy! 
Peppermintinis
makes 3 servings 
(Source: Delish) 
1/2 c. semisweet chocolate chips
1/4 c. crushed candy canes
6 oz. white chocolate liquer
4 oz. vodka
2 oz. peppermint schnapps 
4 tbsp. heavy cream
Ice
3 small candy canes for garnish 
1) Create a dipping station for your martini glass, with two shallow plates - one with melted chocolate and the other with crushed candy canes. Dip the glass rim first in chocolate and then the candy canes. Pour remaining chocolate into the glass bottom and swirl to coat.
2) Combine all liquids in a cocktail shaker with ice and shake until cold. Divide drink into multiple glasses and garnish with a candy cane.   
Santa Clausmopolitans
makes 4 servings
(Source: Delish)  
1 c. vodka
1 1/2 c. cranberry juice
1/4 c. triple sec
1/4 c. fresh lime juice
1/2 c. fresh cranberries 
white sanding sugar 
Lime wedge for rim
1) Run a lime wedge around the rim of each glass and dip in sanding sugar.
2) Fill a cocktail shaker with ice and then add all liquids. Shake until cold.
3) Divide drinks between glasses and add cranberries for garnish. 
Chris Covington's Holiday Punch
(Source: Staff member Kathleen Covington)
One part vodka
One part pineapple juice
One and a half part ginger ale (or mix of sprite and ga)
Plus add cranberry juice or grenadine for color.  If cranberry, add more vodka.
Mix and enjoy!
A Fine Idea
(Source: Staff member Lindsay Ridgeway-Baierl)
2 oz Four Roses Bourbon
Serve in glass, escape your family.
Sponsored by:
Your Atlanta Area Lexus Dealers