Film Scene Studio
Adult
An ongoing scene study class that focuses on continued use of authentic acting techniques learned in earlier classes. Individual coaching by Lon Bumgarner in front of live cameras and class audience, according to the actor's level and challenges in the moment. Bring a flash drive to capture performances and personal coaching and have an ongoing record of your progress.
Classes can be purchased in 4, 8 or 12 class packages. Dates do not have to be consecutive. Due to the popularity of this class, once dates are selected there are no transfers. If you have questions, call us at 404.733.4700. Classes are offered:
Wednesdays  - 6:30 PM - 9:30 PM
Saturdays - 12 PM - 5 PM
Prerequisite: Acting II: Process and Film I or equal prior experience
Prospective students are required to audition for this class prior to registration. Please email atedu@alliancetheatre.org to schedule your desired date.
Tuition:
4 class package - $200 ($50 per class)
8 class package - $360 ($45 per class)
12 class package - $480 ($40 per class)
COVID SAFETY PROTOCOLS
Masks are encouraged but not required. Learn more about our safety policies here. 
Meet the Teacher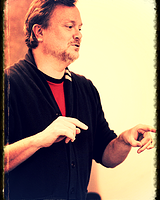 Lon holds two Master of Fine Arts degrees, one in Theatre Production from Virginia Commonwealth, the other in Film from the University of Southern California as well as graduate credits from the prestigious Royal Shakespeare Theatre in Stratford, England. His film and commercial credits include the direction and production of independent features as well as numerous shorts and over 60 national and international commercials and industrials. His graduate film "Three Pages" was selected as one of the top one hundred films to represent the USC on its 70th anniversary. He is the recipient of many grants and honors including the North Carolina Screenplay Fellowship and since 1984 has directed over 125 plays throughout the country including off Broadway. For eight years he served as Artistic Director of the Charlotte Shakespeare Company (CSC), a non-profit professional theater company and during that tenure was presented one of the original International English Speaking Union's "Excellence in English Awards" by HRH The Duke of Edinburgh. He has taught in a variety of state universities and private colleges and recently retired after twelve years as a member of the theater faculty at UNC/Charlotte. He is also the founder and principle instructor of the Film Actors' Studio, which for over twenty years has served as a training ground for over 3500 professional actors.
The Alliance Theatre is the lead producing theatre in the Southeast, creating the powerful experience of shared theatre for diverse people on two stages. We value excellence, pursued with integrity and creativity, and achieved through collaboration. We deliver powerful programming that challenges adult and youth audiences to think critically and care deeply.
More About This Venue
Meet Our Generous Sponsors