Film Audition Techniques I - Virtual
Film Audition Techniques I - Virtual
Adult
Late night self tapes and zoom callbacks aren't going away anytime soon. In this three part class, you will learn techniques and best practices to take control of your virtual audition.
Tuition: $150
Duration: 2 hrs, 3 sessions
Maximum of 10 students
 
Meet the Teacher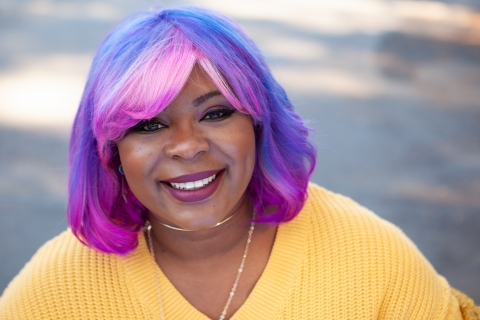 As a passionate advocate for the pursuit of excellence, Carole Kaboya has dedicated herself to being in a position to help others realize their goals. Born in the Democratic Republic of Congo and the oldest of four daughters, Carole learned early the value of a dream and the importance of lifting others up. She's a UGA Theatre Alum who also studied Music Business to pair her own natural ability to entertain with industry know-how, both playing a vital part as a professional in the film and TV industry for over a decade in Atlanta.
Carole immediately made an impact as a writer, producer, director, and star of her successful web series "Bethany" and found a way to not only spotlight her gift but to create opportunities for talented friends. This led her to produce additional works in both film and live platforms bringing together and maximizing the talent of people all over the Southeast. This ability to see and organize would become the skill to serve her in casting, working on projects for YouTube Red, Sony, Netflix, and the CW.
During this time, her calling to help others realize their goals has remained a cornerstone. Carole has been an acting coach for Atlanta talent who have credited her as a big part of getting to that next level, booking major roles on TV series such as The Sinner (USA) and films such as Dear Evan Hansen (Universal Pictures).  While her knowledge as a director and actor definitely helps prepare those who hire her for entering the industry, possibly the most important part of her coaching is in regards to attitude and confidence. A beacon of self-empowerment, Carole works hard to let her talent know that no matter how the industry moves they need to remain unmoved in who they are and what they believe about themselves.
This is the true reason she's been so successful for so many years as an uplifting force in Atlanta's film industry. So when she's not posting videos with her dashing duo of pets, dog Marlo the Magnificent and cat Miss Honey "Bunny" Bonet, she's dedicated to the same dream she had as a kid on distant shores. Entertaining and lifting others up to find their own power within.
The Alliance Theatre is the lead producing theatre in the Southeast, creating the powerful experience of shared theatre for diverse people on two stages. We value excellence, pursued with integrity and creativity, and achieved through collaboration. We deliver powerful programming that challenges adult and youth audiences to think critically and care deeply.
More About This Venue
Meet Our Generous Sponsors