Restaurants of the West End
Sounds of the West End, the first show of the 10th Anniversary Kathy & Ken Bernhardt Theatre for the Very Young season, explores Atlanta's historic West End neighborhood through the ears of a young girl. The 4-episode series is inspired by our original book In the West End by Will Power with illustrations by R. Gregory Christie, commissioned by the Mayor's Summer Ready Club. In both the show and the book, we encounter some of Atlanta's most exciting eateries located right in the heart of the West End. Which of of these iconic Atlanta restaurants is your favorite? 
Tassili's Raw Reality Café  
This restaurant leaves the cooking at home with delicious raw vegan foods, desserts, and drinks. 
Soul Vegetarian 
Soul Veg was one of the first vegan restaurants in Atlanta and specializes in Southern comfort food.    
Vegan Dream Doughnuts & Strong Drink Vegan Juice Bar 
Check out this spot for the best doughnuts in the city made from scratch daily.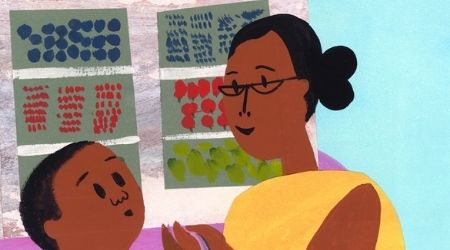 West End Farmers Market 
Open Fridays and Saturdays in Gordon White Park on the Beltline, this farmer's market provides the West End community and surrounding area with an opportunity to purchase local, fresh goods. 
Slutty Vegan 
This wildly popular restaurant, now with multiple locations, is known for its plant-based burger.