Plant a Seed! Children's Books & Stories About Gardening
In My Granny's Garden, the newest production in our Kathy & Ken Bernhardt Theatre for the Very Young 2020-21 season, is now streaming. In celebration of this streaming release, we have compiled a list of five children's books that focus on the joy and curiosity that comes with planting a garden. These books are sure to delight and inspire children and parents alike to go outside, plant a seed, and see what grows!
A huge thank you to Kenneth Vesey at the Peachtree Branch Library for curating these selections. Happy reading!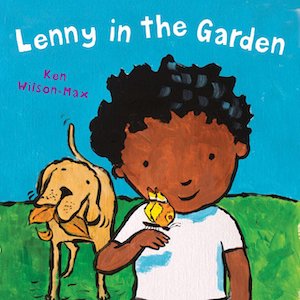 ​
Lenny in the Garden by Ken Wilson-Max (Ages 0-2)
While Lenny's mother digs the soil and plants and waters some young flower plants, Lenny goes on a search for wildlife. He finds an ant, a caterpillar, a butterfly, a ladybird, a spider, and other insects — and all the time their dog Wilbur is trying to join in. It's a situation that will be very familiar, but the charming depiction of Lenny and his mother engaged in these ordinary activities is brought to life by Ken Wilson Max's bright colors and strong simple lines. Its portrayal of a mixed-race family is refreshing, as is the depiction of a delightful and characterful black child at the heart of the book. 
​
The Surprise Garden by Zoe Hall (Ages 2-4)
In simple language and vibrant, full-color cut-paper collages, three children celebrate the delights of planting a garden in the spring, then watching with joyful anticipation what grows from each seed, from green beans to yellow squash to red carrots.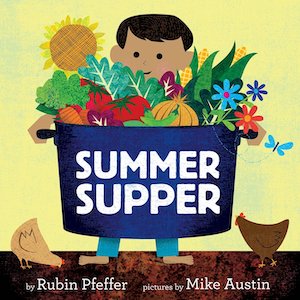 ​
Summer Supper by Rubin Pfeffer (Ages 2-4)
From sowing seeds in spring to savoring succotash, follow the creation of a family meal from the farm to the picnic table on a warm summer evening. Told entirely in words beginning with the letter "s," this book will give children an appreciation for the process by which their food travels to the dinner table.
Mike Austin cleverly incorporates Rubin Pfeffer's words into his art and creates a visual feast in which kids will love to indulge! Layers of humor and storytelling make this worth many revisits.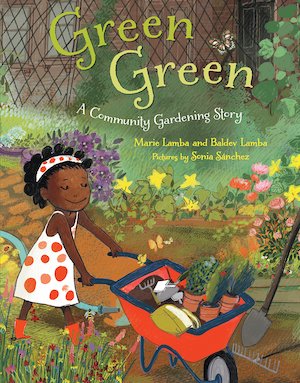 ​
Green Green: A Community Gardening Story Baldev Lamba and Marie Lamba (Ages 4-6)
Green grass is wide and fresh and clean for a family to play in, and brown dirt is perfect for digging a garden. But when gray buildings start to rise up and a whole city builds, can there be any room for green space? The neighborhood children think so, and they inspire the community to join together and build a garden for everyone to share in the middle of the city.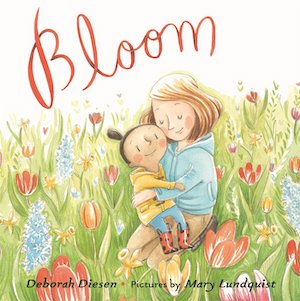 ​
Bloom by Deborah Diesen (Ages 4-6)
"Dig holes in the autumn soil. 
Drop the bulbs in one by one. 
Cover them with dirt. 
Come spring, the bulbs will flower!"
In this lushly illustrated story that celebrates life and growing up, a mother and daughter plant a garden to see how something small blooms into something as beautiful and strong as their love.