Intersecting Arts with Academics: How the Alliance Partnered with GSU to Produce DATA
When the world turned upside down, we scrambled to find new and innovative ways to continue to produce good theater, starting with online offerings later made available through Alliance Theatre Anywhere, a re-imagining of our annual tradition of A Christmas Carol presented in shipping containers in a parking lot, under a tent on Callaway Plaza, and even through an animated short film. In order to produce Data, a fast-paced drama for our technology-driven era that looks behind the closed doors of Silicon Valley that also won our annual Alliance/Kendeda National Graduate Playwriting Competition, we didn't have to look much further than our backyard.
Brennen Dicker is the Executive Director of the Creative Media Industries Institute (CMII) in the College of Arts & Sciences at Georgia State University. He came from the film and television industry and was a producer in Chicago and on the business side of post-production in Atlanta, but, wanting something new, he seized the opportunity to be a part of CMII. Dicker says he was "fascinated by how the university was teaching students in television and film and introducing them to animation and other forms of art, which also includes immersion technologies with augmented reality and virtual reality."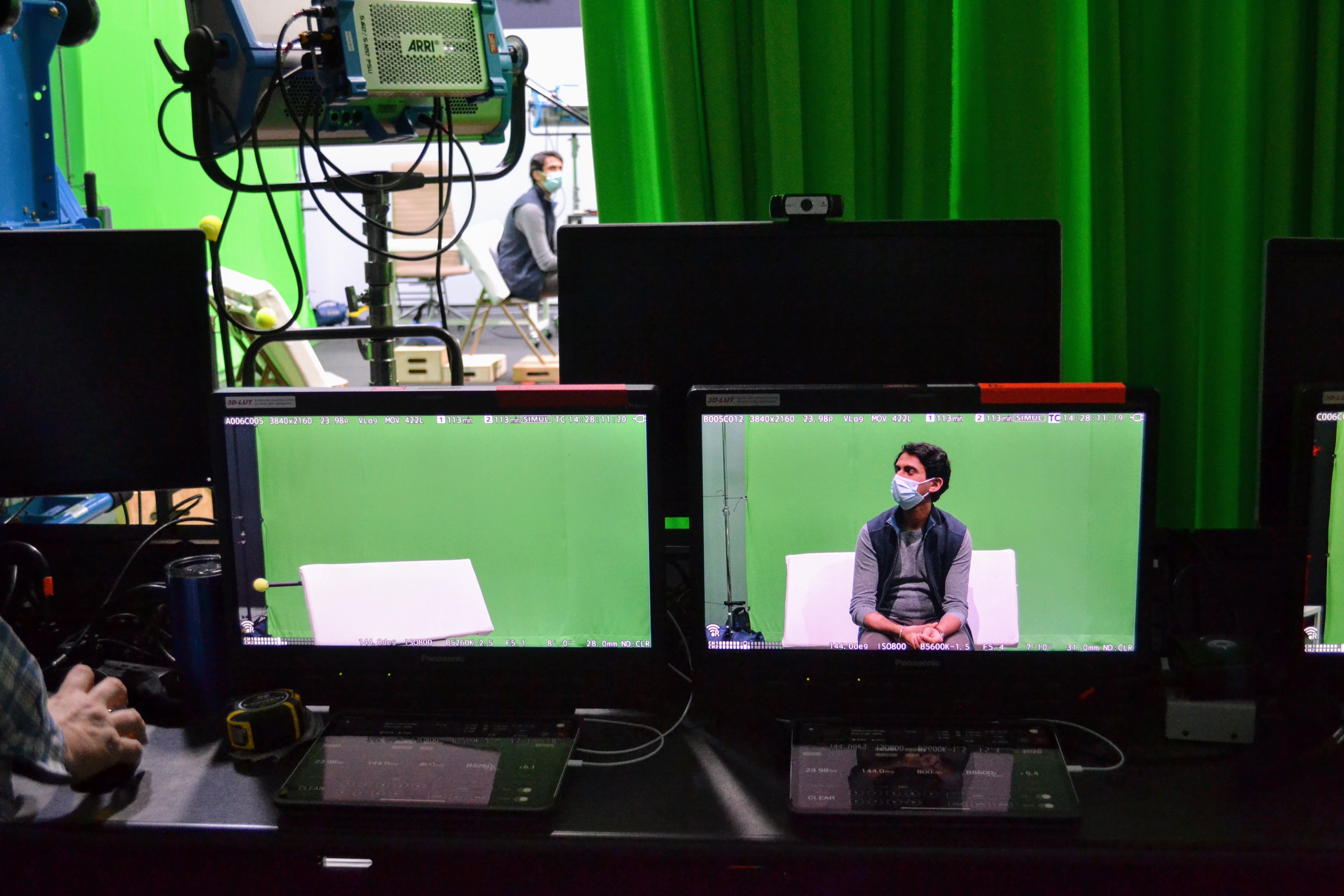 One of Dicker's majors in college was theater and he simply loves the art in general, and he says that he and his colleagues had been wanting to connect with the Alliance Theatre for a while. "We deal with all these technologies – motion capture, volumetric capture, and visual effects work that we do with film and television," he says, "but all of us would talk about the Alliance because we love the productions there and what Alliance Theatre has done for the city of Atlanta. I remember fondly going to The Prom with my wife, so when Susan [Booth] called me and said, "Hey, we're looking at trying to see how we can put this play online; would you be interested?" we just jumped at the chance because what an interesting way to go about this, especially in a pandemic."
Susan presented Dicker and CMII with a concept and asked how they could play with it. The CMII has a green screen studio on campus, so filming the production there was a no-brainer. He even reached out to some of the other professionals he knew in town so that he could find the best way of compositing the shots. CMII has a room full of green screens that they provided for filming Data, which is just one of the many projects they've housed. CMII often invites clients to work on campus in order to pay for the equipment, but another big reason for working with different clients is so that their students can help out. This way, the students can intersect academics with the arts, earning hands-on experience with mentors and projects that will enable them to have success in the future.
Dicker says that they were able to bring in student workers who were able to sit in on the process and help out with Data. "We had a couple of theater majors who were able to sit in and read the lines before the actors came in. Susan directed them, so, to them, that was thrilling. It was huge for them." This isn't out of the ordinary; giving students hands-on experience is incredibly important for CMII as a whole. "It is our goal to create pipelines where students can see how everything works in a pre-production, production, and post-production capacity so they can see how it gets put together," Dicker says, "whether it's in gaming, AR/VR, or even small video productions, to show the storytelling and how it gets done."
Storytelling is also something that Dicker feels is incredibly important to teach his students, as it's a foundation on which lots of jobs – especially in technology – are based. "If you can tell a good story, you can get a job," he says. "It's basic, but what we're trying to do is show them the fundamentals and then show them how to implement them in a VR experience or a game or even, for instance, working with a client such as the Alliance. How are they telling their story here? What works? It's a combination of the two; we want to make sure that [the students] get proficient in these workflows and what we're doing but, more importantly, that they can tell a good story when they get out, which will only propel them to future success. We like to say that we're creating the next generation of digital storytellers through emerging technology."
CMII offers multiple degrees, including a Bachelor of Arts in Game Design, a Bachelor of Science in Game Development, and a Bachelor of Interdisciplinary Studies in Media Entrepreneurship. In 2018, when Dicker first started working at CMII, it was home to four hundred students. In the fall, they'll have over one thousand. Because of this, community is another thing that he is passionate about. He calls CMII's students a "dynamic group of entrepreneurs, gamers, theater, and film people" and says that these are the people who need to have community because it's "vitally important – without it, you're missing out on an experience." He goes on to describe what he'd like to see at CMII in the coming years: "A culture and community within CMII where students can experience working on projects together but, more importantly, the idea of new friendships and creating relationships with mentors, faculty, and clients."
Alliance Theatre was thrilled to partner with them on one of those projects that created space for building community. With the original, pre-pandemic plan for presenting this show, Data would have worked well onstage. However, being able to produce it at CMII almost seemed like the perfect medium for it. Dicker says it "fell into what we know what to do technically and what [Alliance Theatre does] artistically." He goes on to say that he "loved the idea that the play was about technology and here you're trying to push it into another space instead of doing a traditional theatrical space, so it made perfect sense to do this play this way. If you would've said it was a Western or The Prom, I would've said, "That doesn't quite work this way, but we can try!" But I was very excited once I read the script because I could visually see how you could do this."
Dicker agrees that CMII and Alliance Theatre is a perfect combination, saying that it was "fun to experiment." He goes on to say, "I just really look forward to seeing the production. We really enjoyed being a part of it – we hope we can do more with the Alliance."
Data opens next Thursday, May 6, and is available on our streaming platform, Alliance Theatre Anywhere. To purchase tickets for this interactive live online experience, visit our production page. For more behind the scenes content, check out this video.