Waffle House Love and Other Facts about Maybe Happy Ending's Kenny Tran
If you're looking at the ads for our new production Maybe Happy Ending, and thinking to yourself, "Hey, this guy looks familiar!"— You're right!
Kenny Tran, star of recent local productions including The Little Mermaid (Serenbe Playhouse) and Men With Money (Aurora Theatre), returns to Atlanta to make his Alliance Theatre debut as the lovable Helperbot Oliver in this heartwarming musical. Recently, we sat down with Kenny to talk about the show and his favorite city hot spots. 
 
How did you find yourself in Atlanta originally? 
My first job after graduation was as an Acting Apprentice at Serenbe Playhouse. After spending a year here in ATL, I moved to NYC, but I had a great opportunity to return to the Aurora Theatre for work, including the new musical Men With Money last year. Ever since I arrived in Atlanta, I had the Alliance Theatre down as somewhere I wanted to work. To work at the Alliance is an absolute dream, so I'm eating it up. The audiences are so giving, so thirsty for good and new theatre, and the Alliance does everything possible to bring the best shows to their patrons. It's an honor to return to Atlanta and be a part of it.
How does it feel to be working on a show like Maybe Happy Ending? 
It's so incredibly exciting. Many actors never get the chance to do new work, and many more actors never get to work on new musicals that are as astounding as Maybe Happy Ending. The writing is honest and the music incredibly moving and specific. I feel so unbelievably lucky and dazed to forever be a part of this show's journey. I'm a little nervous that I peaked a little too soon, getting to work on Maybe Happy Ending.
What's it like to work to work Director Michael Arden and your fellow castmates? 
Michael is such a brilliant director, obviously, but what I think he does that's special is that he really appreciates and values his entire team—from actors to stage managers, to technicians, to staff, everyone. It's important to him that each and every person invests in the story we're telling, and that every person feels like they're invested in by the whole team. Every person involved with the show is a collaborator and has something valuable to add, that's Michael's vision, and it's the most supported I've ever felt. I absolutely adore my cast, and they're all the most fun, snarky, sarcastic, loving group of humans. It's a small show (even with understudies, we're only 8 people), so we spend a ton of time together, AND we still spend time together outside of rehearsal—which doesn't seem like a big deal, but I've worked with many people who I'd rather not spend more than the time we have to work together.
What are some of your favorite places or activities in Atlanta and why? 
I LOVE WAFFLE HOUSE. The saddest part of moving away from the Midwest—Kansas City— and from Atlanta was the lack of Waffle Houses. There are no WaHo's in NYC and it tears me apart inside. No diner in NYC can live up to those hashbrowns, the feeling everyone gets hanging out at a WaHo, the cheap prices! Aside from WaHo, I love a burger at The Vortex, the bars at Edgewood, and Piedmont Park. I joked with a friend at one point that if I were going to live in Atlanta, I'd want to live right next to the park. Also, kind of weird, but I love the ATL airport. It's huge for one, and two, there's SO MUCH FOOD in there! I love Buford Highway for the amazing Vietnamese food (I brought my mom to a restaurant a year ago on Buford Highway and she loved it), I love the various small pockets of Korean businesses and restaurants in and around Lawrenceville. Mostly, I just eat in Atlanta, and I'm always down for suggestions, PLEASE!
What do you hope audiences take away from Maybe Happy Ending? 
The magic and reality of love. What does it fully mean to love someone?
How are you similar to your character of Oliver and how are you different? 
I really feel the most similar to Oliver in the journey he goes through. Without spoiling the show, the way Oliver grows up through the challenges and truths he has to come to terms with really makes me think of myself. Oliver isn't really the most social and is very goal-oriented. Some of that comes from being a Helperbot, but I'm very social, and, I like to think, very friendly and welcoming. Maybe I'm also not the best at setting a schedule for the day, either. Oliver is okay repeating the same actions and tasks every day, and I CANNOT DO THAT EVER. I'm so kinetic and I get bored easily, so I generally switch up my life and schedule regularly.
How did you first get interested in the world of theatre?
I got started in 6th grade with the role of Guard 3 in Aladdin Jr. If you're familiar with the show at all, you'd know that the role of Guard 3 doesn't exist and they had to write me in. So, I was incredibly close to never finding theatre. You never know what small detail could lead to the rest of your life!
Anything else you would like our audiences to know about you? Or the show?
Honestly and from the bottom of my heart, thank you for coming to this show. It's funny to think about the show because talking to the writers or the other actors, everyone has a different interpretation of what the show is trying to say and what it means to them. It's the most special show I've had the privilege to give myself to. If you haven't seen the show, I hope you can, and after you do, I hope that you love those around you harder and more fully than you ever have before.
See Kenny Tran as Oliver in Maybe Happy Ending on the Coca-Cola Stage through February 16th.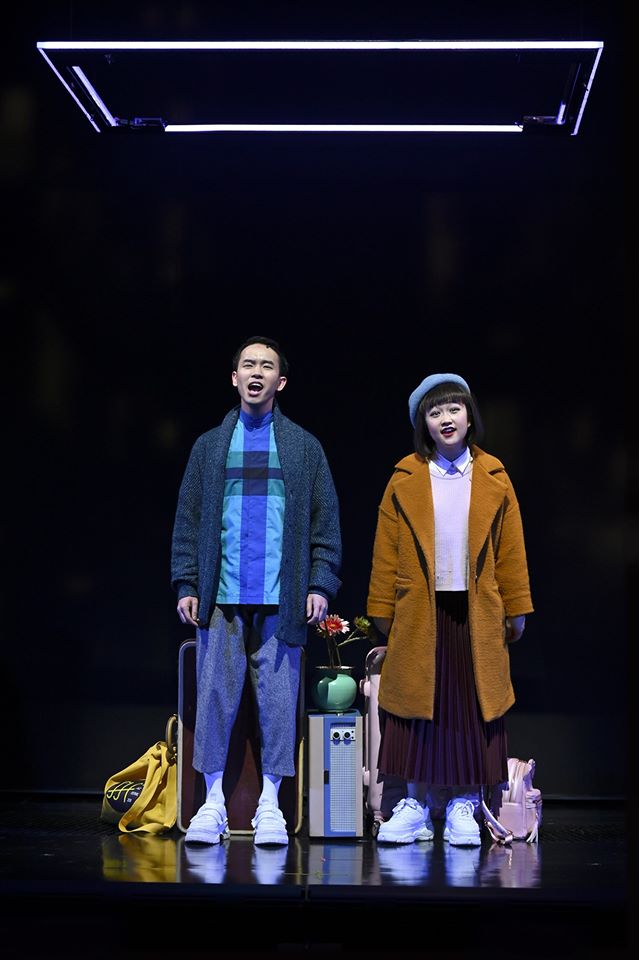 ​
Kenny Tran and Cathy Ang in Alliance Theatre's
Maybe Happy Ending. Photo by Greg Mooney.