2020 Holiday Events in Atlanta
Let's face it, 2020 has been a stressful year. So now more than ever, folks are itching for new activities to celebrate the season of joy. Here's a snapshot of holiday events in Atlanta.  
Be sure to check out the links below to learn more about each organization's COVID safety procedures.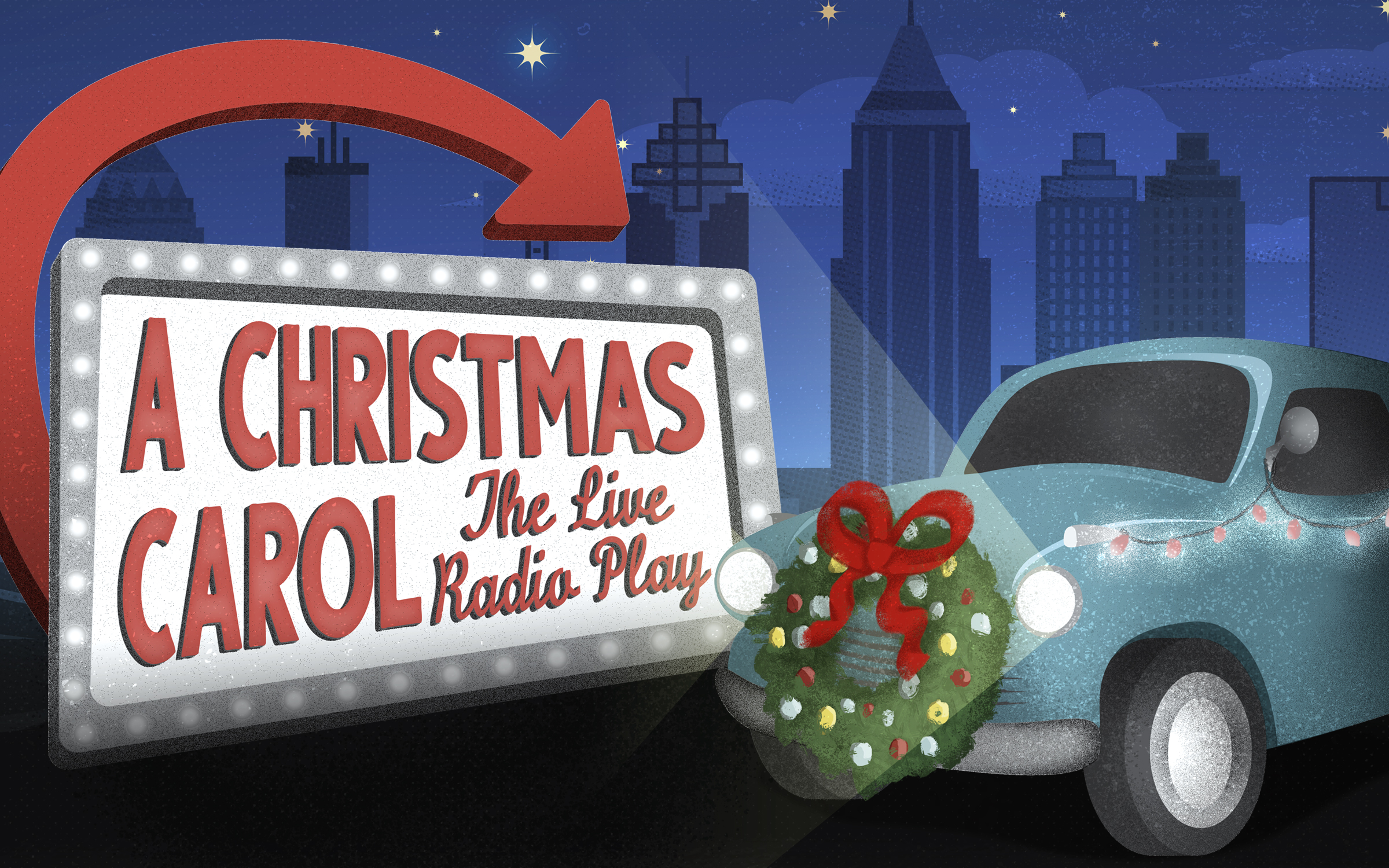 For all ages: 
A Christmas Carol: The Live Radio Play: An Alliance Theatre Drive-In Experience in Summerhill
Experience Atlanta's Summerhill neighborhood and all the magic of a drive-in while live actors retell the beloved holiday story.  ​
JINGLE! Hear the bells jingle on the streets of Victorian England as you're transported back in time with Ebenezer Scrooge, Marley, and the Ghosts of Christmas Past, Present, and Future.  ​
JANGLE! Watch and listen to how a sound effect artist creates the jangling of Marley's chains in real-time with the story. ​
DASH! Load up your sleigh (or car) in front of our drive-in theatre stage and big screen for a Christmas Carol experience you will never forget! ​
Garden Lights, Holiday Nights at Atlanta Botanical Garden 
One of Atlanta's favorite annual events is back again to light up your winter nights! New in 2020, the Red Queen joins the White Rabbit and Phoenix from Alice's Wonderland Reimagined in a glowing cast of larger-than-life twinkling sculptures. Exhibition runs nightly through January 16th. Nightly capacity has been dramatically reduced to ensure social distancing. 
Winter Wonderland at Fernbank Museum
Celebrate the season with this holiday-inspired exhibit featuring decorated trees and cultural displays, as well as six giant (some up to 7 feet tall) decorated snow globes outdoors, all include with general museum admission.   
 
For the adults:
A Very Terry Christmas Streaming on Alliance Theatre Anywhere
From Broadway star Terry Burrell (Dreamgirls, Into the Woods) comes a holiday celebration of all the things that give us joy – even in the most chaotic of times. In this prerecorded streaming production, Terry will take us on a tour of her favorite Atlanta destinations while sharing her personal holiday stories and songs. Give yourself the gift of laughter, light, and love by spending a very Terry evening at home. ​Streaming November 27 - December 31. 
Sips Under the Sea Lite at Georgia Aquarium 
For those looking for 21+ events, the Georgia Aquarium is offering a quieter and more safety-focused version of their popular Sips Under the Sea series on December 4. Featuring specialty cocktails, dining options, and a live DJ, this limited-capacity event gives you great access to the aquarium. Be sure to wear your favorite tacky sweater (and a mask to match)! 
History After Hours at the Atlanta History Center 
Grab a cocktail and check out the famous Swan House and the surrounding gardens, as well as the Any Great Change: The Centennial of the 19th Amendment and Mandarin Shutz: A Chinese Export Life exhibitions on December 10. 
Fernbank After Dark: Holiday Spirits
Bring your best holiday cheer for a night of festive fun featuring after-hours access to the holiday exhibit Winter Wonderland, holiday-themed activities, live music and more on Friday, December 11. 
For the young and young at heart:
Stan the Lovesick Snowman at Center for Puppetry Arts 
Based on The Snowman by Hans Christian Anderson, this puppet show for the whole family explores a magical tale of fun and friendship with ice skating, snowball fights, hockey, and moose mail! Running November 24 through January 3, with performance options on weekdays and weekends. 
Celebrations in Light at Children's Museum of Atlanta 
Exploring the chilly season with some cool science, art, and staged programming. Dig into the science behind snow by making your own, play Winter Weather Bingo, construct crafts celebrating Hanukkah, Las Posadas, Christmas, and Kwanzaa, and so much more! December 1-30. 
Children's Healthcare of Atlanta Christmas Parade Special
While there won't be a live parade strutting down Peachtree Street this year, check out A Look Back at 40 Years of the Children's Christmas Parade, a TV special airing on WSB-TV on Sunday, December 6 at 1:30 p.m. The program will look back on some of our favorite moments from past parades, with a special feature on healthcare heroes.   
Knock, Knock (the Sounds of Winter) - A Virtual Experience from the Alliance Theatre
Come in from out of the cold and celebrate community, family, and warmth this holiday season! Welcome to The Apartment Building. Below us, above us, and beside us, the residents are preparing for the holidays and trying to stay warm. Join us on a floor to floor adventure, meeting and celebrating with a variety of friends who all call The Apartment Building home. Surprises hide behind each door — all you need to do is (Knock, Knock) and listen closely. December 8 - January 21. Part of the Kathy and Ken Bernhardt Series for the Very Young designed for ages 0-5.     
Stay safe and happy holidays, Atlanta!