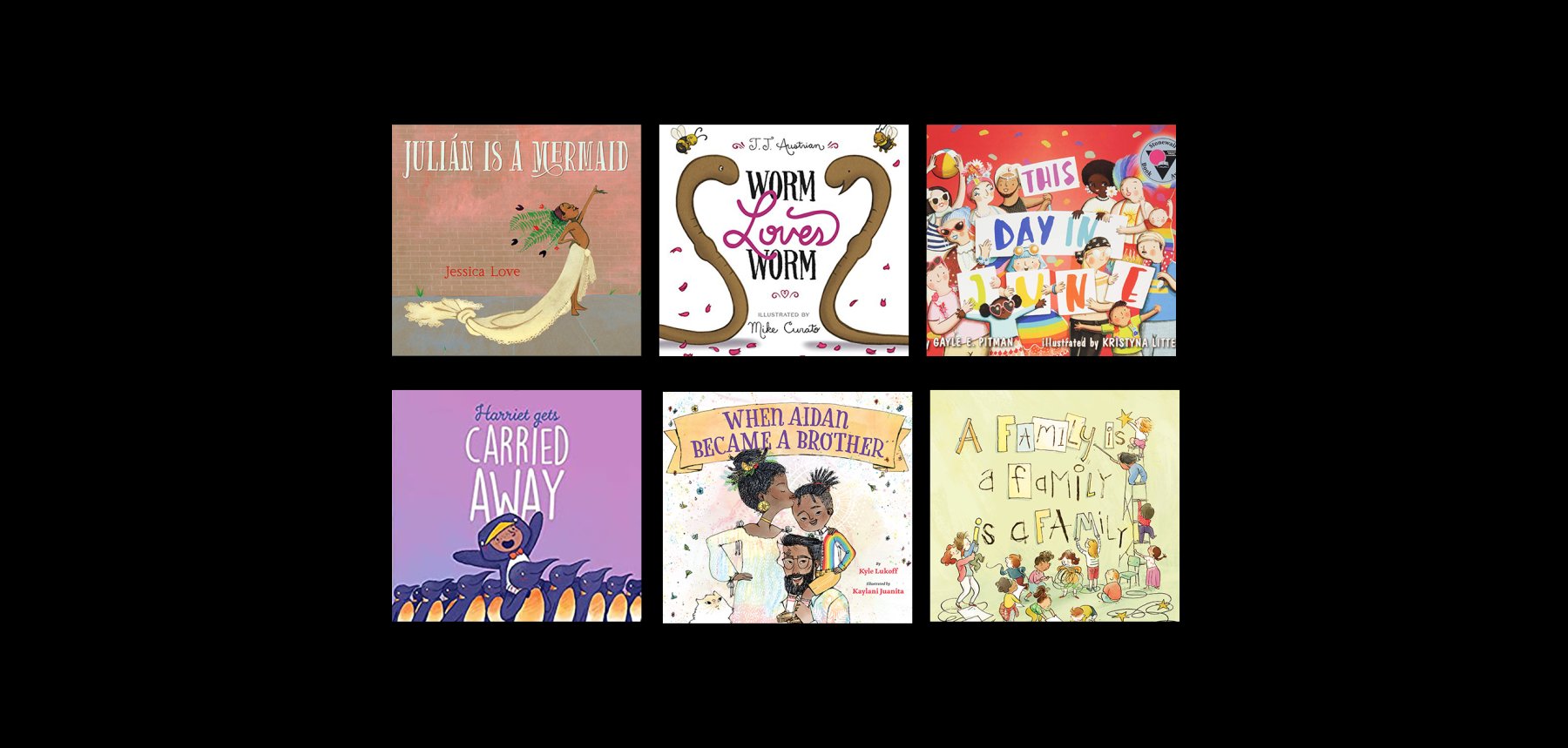 PRIDE Picture Books from the Alliance Theatre Education Library 
PRIDE Picture Books from the Alliance Theatre Education Library 
To celebrate PRIDE month, we are sharing some of our favorite picture books from the Alliance Theatre Education Library that celebrate LGBTQ people and families. We use these books in our programming to expand the hearts minds of youth around Atlanta.  
​
Julián is a Mermaid by Jessica Love 
While riding the subway home from the pool with his abuela one day, Julián notices three women spectacularly dressed up. Their hair billows in brilliant hues, their dresses end in fishtails, and their joy fills the train car. When Julián gets home, daydreaming of the magic he's seen, all he can think about is dressing up just like the ladies in his own fabulous mermaid costume: a butter-yellow curtain for his tail, the fronds of a potted fern for his headdress. But what will Abuela think about the mess he makes — and even more importantly, what will she think about how Julián sees himself? Mesmerizing and full of heart, Jessica Love's author-illustrator debut is a jubilant picture of self-love and a radiant celebration of individuality. 
​
Worm Loves Worm by J. J. Austrian 
You are cordially invited to celebrate the wedding of a worm...and a worm. 
When a worm meets a special worm and they fall in love, you know what happens next: They get married! But their friends want to know—who will wear the dress? And who will wear the tux? 
The answer is: It doesn't matter. Because worm loves worm. 
​
This Day In June by Gayle E. Pitman 
This day in June…. Parade starts soon….  Rainbow arches…. Joyful marches! 
 
In a wildly whimsical, validating, and exuberant reflection of the LGBT community, This Day In June welcomes readers to experience a pride celebration and share in a day when all are united.  
​
Harriet Gets Carried Away by Jessie Sima 
Harriet loves costumes. She wears them to the dentist, to the supermarket, and most importantly, to her super-special dress-up birthday party. Her dads have decorated everything for the party and Harriet has her most favorite costume all picked out for the big day. There's just one thing missing—party hats! 
 
But when Harriet dons her special penguin errand-running costume and sets out to find the perfect ones, she finds something else instead—real penguins! Harriet gets carried away with the flock. She may look like a penguin, but she's not so sure she belongs in the arctic. Can Harriet manage her way back to her dads (and the party hats!) in time for her special day? 
​
When Aidan Became a Brother by Kyle Lukoff 
When Aidan was born, everyone thought he was a girl. His parents gave him a pretty name, his room looked like a girl's room, and he wore clothes that other girls liked wearing. After he realized he was a trans boy, Aidan and his parents fixed the parts of his life that didn't fit anymore, and he settled happily into his new life. 
Then Mom and Dad announce that they're going to have another baby, and Aidan wants to do everything he can to make things right for his new sibling from the beginning--from choosing the perfect name to creating a beautiful room to picking out the cutest onesie. But what does "making things right" actually mean? And what happens if he messes up? With a little help, Aidan comes to understand that mistakes can be fixed with honesty and communication, and that he already knows the most important thing about being a big brother: how to love with his whole self. 
​
A Family is a Family is a Family by Sara O'Leary  
When a teacher asks the children in her class to think about what makes their families special, the answers are all different in many ways — but the same in the one way that matters most of all. 
 
One child is worried that her family is just too different to explain, but listens as her classmates talk about what makes their families special. One is raised by a grandmother, and another has two dads. One is full of stepsiblings, and another has a new baby. 
 
As one by one, her classmates describe who they live with and who loves them — family of every shape, size and every kind of relation — the child realizes that as long as her family is full of caring people, her family is special.