Fearless Families Workshop & Sit-In Screening
Fearless Families Workshop & Sit-In Screening
Youth & Teen
Fearless Families, a Workshop for Allies and Little Allies-in-the-making
At the Alliance Theatre, we are in the practice of building a community of allies using the tools of theater.
Using play as tool for learning, this workshop utilizes our voice, body, and imagination to dig deeper into the difficult conversation of race and injustice in a way that is accessible to youth, the young at heart, and their caregivers!
In our time together, we will use theater-based games to frame the concepts of diversity, fairness, and advocacy to equip families with the tools to have conversations that raise awareness to our biases while we rehearse action that contributes to an intersectional and antiracist lifestyle.
Recommended for: Ages 6-12 and their caregivers
Tuition: $10/person
Duration: 90 minutes (includes workshop and film screening)
Sit-In
This workshop will begin with a screening of the original animated short SIT-IN. 
By Pearl Cleage
Inspired by Sit-In: How Four Friends Stood Up by Sitting Down, The New York Times bestselling book by Andrea Davis Pinkney; Illustrated by Brian Pinkney
A Palette Group Production
Original Compositions by Eugene H. Russell IV
Directed by Mark Valdez
Written by Atlanta's bestselling author, playwright, and Civil Rights Activist, Pearl Cleage (Blues for An Alabama Sky, In My Granny's Garden, Tell Me My Dream) this original animated short celebrates the power of youth to change history. We meet three friends as they learn about the sit-ins of the Civil Rights era, and powerfully apply those lessons to issues they – and we all – face today. The play invites students, parents, teachers, and families to experience the Civil Rights Movement as a living, breathing energy with practical lessons, ethical challenges, and moral choices that remain relevant today. Featuring a mixture of Civil Rights anthems and new freedom songs composed specifically for the play, Sit-In will move audiences, encourage intergenerational conversations, and inspire the next generation of conscientious social activists.
Meet the Teacher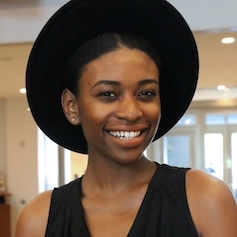 Resident Artist & Allyship Program Director
Maya Lawrence is a NYC born- Atlanta based multidisciplinary artist, specializing in theater, performance, and poetry. As an actor, teaching artist, and facilitator with an audience range from newborns to as long as one can be alive, she uses her superpowers of creativity, curiosity and compassion to facilitate theatre-based experiences rooted in Anti-Bias work for youth, families, individuals, corporations, and organizations in pursuit of becoming the most authentic, empathetic versions of themselves. As a proud Spelman College alumna, and the Inaugural Spelman Leadership Fellow in residence at the Tony Award winning Alliance Theatre, Maya is on a mission to liberate the world through art using radical Love to light the path.
The Alliance Theatre is the lead producing theatre in the Southeast, creating the powerful experience of shared theatre for diverse people on two stages. We value excellence, pursued with integrity and creativity, and achieved through collaboration. We deliver powerful programming that challenges adult and youth audiences to think critically and care deeply.
More About This Venue
Meet Our Generous Sponsors