Palefsky Collision Project
What is the Palefsky Collision Project?
For three weeks each summer, the Alliance Theatre assembles a diverse group of 20 teenagers from metro Atlanta to explore and unpack a classic text under the guidance of a professional playwright and director. Through improvisational exercises, oral history, choreography, the individual performing talents they possess, and their writing, the teenagers create a new piece inspired by the classic text but perceived through their own utterly unique and contemporary prism. The Palefsky Collision Project affords teens a unique theatrical experience and gives them ownership of a performance at the Alliance. It also gives students validity – confidence in their talents, strength for the future, and power in their decisions.
Through this dynamic project, metro Atlanta teens create theater for and about themselves by "colliding" with a dramatic text, reinforcing the idea that theater can address their particular ideas and feelings.
The Palefsky Collision Project is a fantastic way to become a part of the South's premiere regional theater company, meet and collaborate with professional theater artists, participate in an innovative creative process, and make great new friends from schools all over the metro area! The Palefsky Collision Project takes place with the support of the Mellon Foundation's National Playwright Residency Program administered in partnership with Howlround.
Trailers:
The Palefsky Collision Project Trailer 2017
The Palefsky Collision Project Trailer 2014
In the News:
WSB-TV: Collision Project gives students new platform
Full Performances:
Promise - 2018
Our Day's Gonna Come: An American Freedom Song - 2017
 
For more information, call 404.733.4700 or email collision.project@woodruffcenter.org.
SUMMER 2019 INTERVIEW INFORMATION
We are seeking rising juniors, seniors & college freshmen to be a part of this summer's project! The ensemble of the Collision Project is made up of actors, singers, dancers, writers, directors, and designers of any experience level. As long as you have something to say and the desire to say it, we would love to meet you!
For your interview, please prepare a talent to share that is one minute or less. This can be a monologue, song, poem, dance, or anything else that you feel expresses who you are as an artist.
Summer 2019 Schedule:
Rehearsals
Monday-Friday, July 8-12, 9 AM-5 PM
Monday-Thursday, July 15 - 18, 9 AM-5 PM
Monday-Friday, July 22-26, 9 AM-5 PM
Performances
Friday, July 26th, 7 PM
Saturday, July 27th, 2:30 PM
If you have any questions, please contact Palefsky Collision Project producer, Sarah Wallis at collision.project@alliancetheatre.org or 404.733.4732
2019 Palefsky Collision Project Interviews:
To schedule your interview, please fill out the following information form and include one of the timeslots listed below with your top preference of audition time:
https://alliancetheatre.formstack.com/forms/2019collisioninterview
Wednesday, April 24 - 4 PM
Wednesday, April 24 - 5 PM
Wednesday, April 24 - 6 PM
Wednesday, April 24 - 7 PM
Thursday, April 25 - 4 PM
Thursday, April 25 - 5 PM
Thursday, April 25 - 6 PM
Thursday, April 25 - 7 PM
Saturday, May 4 - 12 PM
Saturday, May 4 - 1 PM
Saturday, May 4 - 2 PM
Saturday, May 4 - 3 PM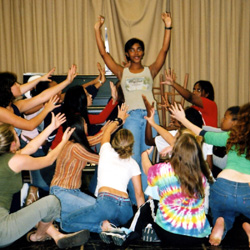 Promise
Based On: Our Town
Guest Artist: Michael Rhod
Director: Rosemary Newcott & Michael Rohd
Workshop: September 2001 – April 2002
Script Development: August 2002 – August 2003
HS Production Tour: February 2004
We Are Antigone 
Based On: Antigone 
Guest Artist: Tammy Ryan
Director: Rosemary Newcott
Workshop: Summer 2003
Script Development: July 2003 – August 2004
HS Production Tour: April 18 – May 2, 2005
Defy You, Stars
Based On: Romeo & Juliet
Guest Artist: Lauren Gunderson
Director: Rosemary Newcott
Workshop: Summer 2004
Script Development: July 2004 – August 2005
HS Production Tour: April 12 - 26, 2006
The True Chronicle History of Hip Hop Lear (or the King of Blingland and his three daughters )
Based On: King Lear
Guest Artist: Oyamo
Director: Rosemary Newcott
Workshop: June 13 – July 2, 2005
Script Development: July 2005 – August 2006
HS Production Tour: February 5 - 16, 2007
17
Based On: Death of a Salesman
Guest Artist: Chay Yew
Director: Rosemary Newcott
Workshop: June 12 – 30, 2006
Script Development: July 2006 – August 2007
HS Production Tour: Spring 2008
Memorabilia
Based On: The Glass Menagerie
Guest Artist: Ken Weitzman
Workshop: June 11 - 29, 2007
Script Development: July 2007 – August 2008
HS Production Tour: Spring 2009
Children of the Dream
Based On: "I Have a Dream" Speech
Guest Artist: Rajendra Ramoon Maharaj
Director: Rosemary Newcott
Workshop: June 30 – July 18, 2008
Script Development: July 2008 – February 2009
HS Production Tour: Spring 2009
Around Atlanta on Eighty Dollars
Based On: Around the World in 80 Days
Guest Artist: Mark Valdez
Director: Rosemary Newcott
Workshop: June 29 – July 18, 2009
Script Development: July 2009 – February 2010
Production with HS Acting Ensemble: July 2011
The Short Story of Michael Fish
Based On: Cyrano de Bergerac
Guest Artist: Janece Shaffer
Director: Rosemary Newcott
Workshop: June 28 – July 17, 2010
Script Development: July 2010 – June 2011
Life, Liberty and the Pursuit of Happiness: an inside/outside improvisational collaboration
Based On: The Declaration of Independence
Playwright: Pearl Cleage
Director: Rosemary Newcott
Workshop: June 27 – July 17, 2011
Wish You Were Here
Based On: It's a Wonderful Life
Playwright: Pearl Cleage
Director: Patrick McColery
Workshop: June 25 – July 14, 2012
Long Time Coming
Based On: Gettysburg Address
Playwright: Pearl Cleage
Director: Patrick McColery
Workshop: June 24 – July 13, 2013
Tom Joad's Blues: An American Odyssey
Based On: The Grapes of Wrath
Playwright: Pearl Cleage
Director: Patrick McColery
Workshop: June 23 – July 12, 2014
Troubling Our House
Based On: Inherit the Wind
Playwright: Pearl Cleage
Director: Patrick McColery
Workshop: June 29 – July 18, 2015
A Celebration in Search of Assumption: The Artist's Role in Wartime
Based On: Leaves of Grass
Playwright: Pearl Cleage
Director: Patrick McColery
Workshop: July 11 – July 30, 2016
Our Day's Gonna Come: An American Freedom Song
Based On: MARCH
Playwright: Pearl Cleage
Director: Patrick McColery
Workshop: July 10 – July 29, 2017
From Grover's Corners to the ATL: A Journey of the Heart and Mind
Based On: Our Town
Playwright: Pearl Cleage
Director: Patrick McColery
Workshop: July 9 – July 28, 2018
In partnership with: