Emotional Intelligence
Overview
COMPELLING ACTORS ARE SMART ABOUT HOW THEY FEEL.
Everyone's personality influences the way they communicate and how they are perceived. Understanding how we (and others) feel can guide our thinking and behavior. This awareness helps us achieve your goals through successful and healthy interactions.
POPULAR LEARNING EXPERIENCES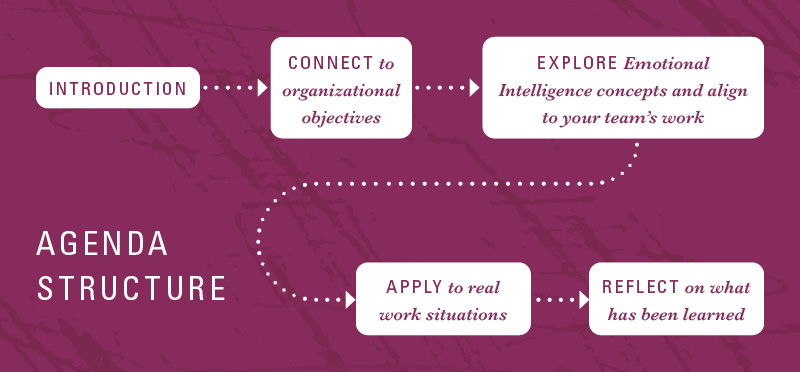 A CUSTOMIZED EXPERIENCE
Partner with Alliance​@work to design an experiential learning framework that allows participants to explore, practice and refine their knowledge and skills. Let's create an experience together that enables your team to apply what they've learned to achieve job-specific goals and objectives.
---
ENGAGE IN RADICAL COLLABORATION​
Outcomes: Participants will learn how to… 
Create a true collaborative mindset 
Work together to move ideas into action 
Contribute to collective problem solving 
---
USE YOUR EMOTIONAL INTELLIGENCE TO ADDRESS YOUR CLIENT'S NEEDS​
Outcomes: Participants will learn how to… 
Identify how the strengths and struggles of their personality styles are triggered (an adaptation of the DISC personality profiles is used, but can be substituted for other frameworks more familiar to participants) 
Demonstrate the different types of empathy in client interactions (cognitive, affective, and compassionate) 
Adapt their behavior to meet the needs of specific client interaction scenarios 
---
BETTER IDEAS THROUGH BETTER CONVERSATIONS​
Outcomes: Participants will learn how to… 
Set clear objectives to have a purposeful and transparent conversation 
Demonstrate their curiosity by asking real, focused, and well-constructed questions 
Apply the six ways to keep a conversation going (standard setting, proposing, facilitating, countering, summarizing, and encouraging) 
---
THE POWER OF POSITIVE INFLUENCE​
Outcomes: Your team will learn how to: 
Use the five different influencing styles (Rationalizing, Asserting, Negotiating, Inspiring, Bridging) 
Make deliberate choices about these style(s) in different workplace scenarios 
Adapt their approach (while maintaining their authenticity) to positively influence the outcome of an interaction  
---
Your investment in Alliance​@work goes directly back into the community, with all proceeds going to support advancing literacy in Georgia classrooms.
---
SELECT CLIENTS

---