March 25 to May 1, 2016
| On the
Hertz Stage
Due to insatiable demand, Ethel has been extended through April 24.
We've extended again! Ethel has been extended through May 1.
Contains: Profanity and some adult situations. Recommended for ages 11 and up.
Ethel is a glimpse into the magnificent and very complicated life of legendary stage and film star Ethel Waters. A versatile actress who epitomized the glamour of Black Vaudeville while successfully and lucratively crossing over into traditionally white performance venues, Waters inspired directors and singers and song writers with her talent and versatility. Waters was the first to record "Stormy Weather," later starring in the remarkable Cabin in the Sky. Atlanta's own Terry Burrell brings this amazing performer to life in a one woman play with music, band, and the larger-than-life wit of Ethel Waters.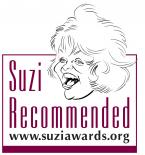 Photos & Video
Cast & Crew
Cast
Terry is beyond thrilled to be returning to the Alliance Theatre after premiering her one-woman show Ethel on the Hertz Stage last spring. Other Alliance credits: A... read more »
Director
Broadway credits: Avenue Q (Tony Award for Best Musical); All Shook Up, The Palace Theater; Purlie (Encores!), City Center; Freak, Court Theater; Currently... read more »
Audience Feedback