November 29 to December 29, 2013
| On the
Alliance Stage
Content and duration may be inappropriate for children under age 5.
Join us for Family Nights for special savings and a keepsake photo!
We are proud to be participating in Carter's Pajama Program this holiday season – please join us.
Don't miss Chris Kayser's 20th production and final season as Scrooge!
"Stories like A Christmas Carol become classics for a reason. Brilliant writing, vivid characters, and a story that touches on the human condition that bears up under repeated revisiting. It's kept me coming back for 20 years." —Chris Kayser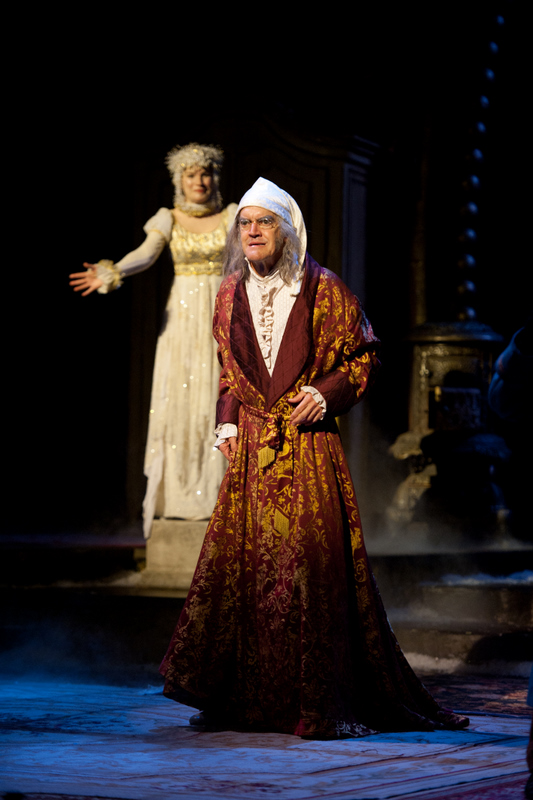 Celebrate Atlanta's finest actors in this magnificent staging of Charles Dickens's classic Christmas tale. On Christmas Eve, Scrooge is visited by four ghosts offering perspective: his old partner Jacob Marley and the Ghosts of Christmas Past, Present and Future. A magical tradition for the whole family, and a great way to see the work of Atlanta's best actors portraying Dickens's beloved characters.
Photos & Video
Cast & Crew
Creative
For the last 25 years, David H. Bell's career has spanned a wide range of international and national projects as director, choreographer and author. As associate... read more »

Clay has been the Resident Sound Designer at the Alliance Theatre for 16 years and has designed more than 90 productions including 26 world premieres, 30 musicals and 23... read more »

D Martyn is proud to have shared this 27-year journey of A Christmas Carol with David Bell and the Alliance Theatre, having designed the original production. He has... read more »

Liz is so happy to spend the holiday season with A Christmas Carol again this year. Other Alliance credits include: Ugly Lies the Bone; Pancakes, Pancakes!; ... read more »

Music Director & Pianist/Conductor

Alliance Theatre: Jacques Brel Is Alive and Well and Living in Paris; tick, tick…BOOM!; A Christmas Carol; Chess; The Grapes of Wrath;... read more »

Mariann has been designing for the Alliance since 1987, most recently for Good People and August: Osage County. Other shows at the Alliance include Avenue X (Suzi... read more »

Rodney is an Atlanta native. Rodney studied theatre at Florida A&M University's Essential Theatre. His 13-year tenure at the Alliance has included stage... read more »
Director
As the Sally G. Tomlinson Artistic Director of Theatre for Youth and Families, Rosemary has blissfully directed dozens of productions such as A Christmas Carol, Slur... read more »
Audience Feedback