Saturday, May 16, 2015
At the Grand Hyatt Atlanta in Buckhead
We're hosting our seventh annual A Tony Evening on May 16 at the stunningly renovated Grand Hyatt Atlanta in Buckhead. Join Chair Georgia Schley Ritchie, Co-Chair Liza McSwain, and Honorees Margaret and Bob Reiser at this star-studded party, featuring a fabulous live and silent auction, dinner and cocktails, and great entertainment. A Tony Evening provides critical funding for the Theatre's educational and artistic programs, including the Reiser Atlanta Artists Lab.
For more information or to become a Patron sponsor, please contact atonyevening@woodruffcenter.org or 404.733.5186.
For corporate sponsorship opportunities, please contact Lisa Robinson at lisa.robinson@woodruffcenter.org or 404.733.4267.
Honorees
Margaret and Bob Reiser


Photo by Greg Mooney
Special performance
Caissie Levy


Broadway star Caissie Levy will headline A Tony Evening. Caissie is best known to Broadway and West End audiences for originating the roles of Molly in Ghost the Musical and Sheila in the Tony Award-winning revival of Hair. Caissie most recently starred as Fantine in the 2014 revival of Les Misérables at the Imperial Theatre on Broadway alongside Will Swenson, star of the Alliance Theatre's recent production of Bull Durham.
 
Chair
Georgia Schley Ritchie
Co-Chair
Liza McSwain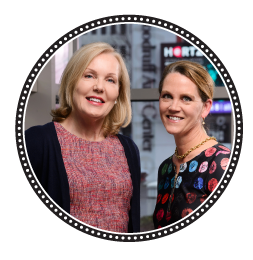 Photo by Greg Mooney
 
Auction Chairs
Tracie Arnold
Jonathan Shapero
Auction Committee
Kristin Rambo Adams
Erin Brown
Mary Hattaway
Rita Izaguirre
Jada Loveless
Patron Sponsors
Producer
Margaret and Bob Reiser
Director
Marie and Brad Foster
Molly and Adam Fuller*
Malinda and David Krantz*
Linda and Steve Selig
Principal
John & Lynn Ayers
Kathleen Barksdale
Barbara and Steve Chaddick
Ann and Jeff Cramer
Katie and Reade Fahs*
Ellen and Howard Feinsand
Virginia Hepner and Malcolm Barnes*
Angie and John Keller*
Alan McKeon and Evelyn Ashley*
Scott, Dallas & Mia Pioli
Harriet and Edus H. Warren, Jr.
Ensemble
James L. Anderson*
Cyndae Arrendale*
Susan Beallor-Snyder and Stuart Snyder
Amy and Hardy Brumfield*
Kelly and Joe Cannon*
Erin and Jack Cay*
Linda and Gene Davidson
Winifred and Tread Davis
Jenny Wheatley Fletcher*
John Garver and Penelope Prime
Rick and Marsha Goerss
Lila and Doug Hertz*
Jocelyn Hunter*
Andrea and Boland Jones*
Lauren and David Kiefer
James and Lori Kilberg*
Mary Jane and David Kirkpatrick*
Jeff Levy*
Juanita and Jack Markwalter
Heath Massey and John Mitchener*
Carol and Dart Meadows*
Caroline and Philip Moïse
Debbi and Lon Neese
Victoria and Howard Palefsky*
Dan Reardon*
Patty and Doug Reid
Fran and Joe Rogers*
Patricia and Maurice Rosenbaum
Debra and Bobby Rosenbloum*
Jane and Rein Saral
Jack Sawyer and Bill Torres*
Surishtha and RK Sehgal
Nancy and Gerald Silverboard
Dean and Bronson Smith*
Karen and John Spiegel*
Charlita Stephens-Walker and Chandra Stephens-Albright
Dorothy Stoller*
Lisa and Chuck Taylor*
Rosemarie and David Thurston*
Waffle House
Cynthia Widner Wall*
Amy and Todd Zeldin
*Indicates Host Committee Member
Corporate Sponsors
Producing Sponsor
Directing Sponsors
Spotlight Sponsors

Live auction services provided by:
Media Sponsor